Get your hospital accredited under NABH
With 5+ years of experience & 500+ customers, regarded as the best NABH consultant
Assistance with NABH accreditation documentation
Get your Hospitals, Nursing Homes, Medical Imaging Services, Dental / Eye Care Centers accredited under NABH
The National Accreditation Board for Hospitals & Healthcare Providers (NABH) is a constituent board of Quality Council of India, set up to establish and operate accreditation programmes for healthcare organisations. The board is autonomous and not-for-profit organisation. The primary objective of NABH is to enhance the quality of healthcare service in India by setting standards and accrediting hospitals which meet or exceed these standards.
NABH accreditation provides many benefits for both hospitals and patients. For hospitals, it can help to improve patient satisfaction rates, reduce costs and increase efficiency. For patients, it can provide peace of mind that they will receive high-quality care from a hospital that meets stringent standards.
NABH Accreditation Benefits
All hospitals/ clinics with Full NABH or Entry level NABH are entitled to many benefits. Here are some of them:
Helps hospitals to benchmark their quality standards against international standards and best practices.
Improves patient safety and satisfaction levels.
Reduces risk of Medical Travel Insurance denials.
Increases transparency in terms of pricing and policies.
Attracts more patients, both from within the country and abroad.
Generates positive publicity and enhances the hospital's reputation.
Facilitates collaboration with other NABH accredited hospitals, both within India and internationally.
Help hospitals to identify and address areas of potential improvement, leading to increased efficiency and improved resource utilization.

In some cases, government incentives may be available to hospitals that have achieved NABH accreditation.

NABH Accreditation Procedure
Submission of application to NABH
In addition to the application fee, self-declaration regarding the terms and conditions, and self-assessment form, the application should include hospital policies, fire NOCs, lift NOCs, MCA-related NOCs, police NOCs, pollution NOCs, address proofs, and IDs of the day. The directors of the hospital, the bank statements, the electricity bill, the amount of shares, the percentage of ownership, the NOC for signage, and other related documents.
Review of application by NABH
As soon as NABH officers receive the application from the aspirant hospital, they are supposed to scrutinize it and provide an acknowledgment letter and a unique reference number so that they can track the application.
Pre-assessment by committee members
For the final assessment, NABH sends a principal inspector or evaluation team to ensure the following aspects:
Preparation of the aspirant hospital for the final assessment
Verification of the authenticity of hospital documents
Clarification in the practice of the evaluation by the employees of the hospital.
The aspirant hospital must take the final assessment after making the officials' corrections during the pre-assessment by committee members. The concerned person will do a final review of all the functions and services in the final evaluation. As soon as the accreditation certificate is issued, it is valid for three years from NABH.
Reassessment and surveillance
Considering that accreditation is valid for three years, the NABH committee schedules a surveillance and reassessment cycle every three years. The hospital is responsible for applying for reassessment at least six months before the validity of the accreditation expires. Failure to apply for reassessment or surveillance within the given time frame can result in consequences.
NABH Document Requirements
The NABH team will ask you to update several statutory and non-statutory documents on their portal. The essential documents are listed below:
Hospital registration certificate
Hospital photographs
Any other Empanelments/ Accreditations
Details of doctors and support staff
List of the services provided
Bio-medical waste certificate
NOC from Fire department
Lift NOC (If elevate available )
SOPs for the various quality procedures followed at the hospital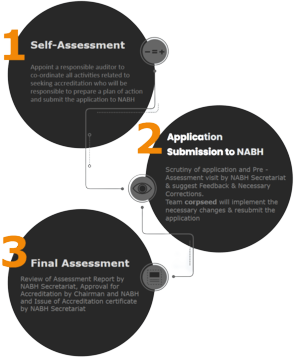 NABH Infrastructure Requirements
NABH has a number of infrastructure and quality requirements for the Operation Theater and other parts of the hospital. The Key requirements are listed below:
Disabled friendly passage, halls, and washrooms
Modular OT
CSSD room 
Laminar flow 
Bio-medical waste room
How MantraConsulting helps in NABH Accreditation?
As a NABH compliance service provider, Mantra Consulting is always on top of all NABH policies and function changes to ensure that the hospital never fails to meet its aspirations. With a systematic approach, we are already halfway there. Here is a step-by-step guide for hospitals to follow when it comes to getting NABH done by us:
Reassessment and Surveillance
Since the validity of accreditation is for three years, the NABH committee schedules a cycle of three years for surveillance and reassessment in hospitals. The hospital is responsible for applying for reassessment at least six months before the expiration of the validity of the accreditation. Failure to apply for reassessment and surveillance in time can result in consequences.
Fill MantraConsulting NABH form
Contact the Mantra Consulting team to discuss specific details. The call may take longer than expected.
Connect with our quality consultant
We will assign responsibilities to the account manager and NABH quality consultant once you finalize terms with Mantra Consulting. 
NABH standards implementation
Our consultants train your team on NABH quality standards. We perform a gap analysis to ensure that all improvement areas are addressed.
Receive NABH Certification
We train you for the final assessment. Once the process is completed, you will get the registrations and certifications.
Top NABH Empanelment Consultant
One of the top agents/consultants for empanelment. Our team includes doctors, healthcare professionals, and certified quality consultants.